Special Chicken Karahi Recipe
Chicken Karahi Recipe is one of the most popular and consumed dish of Pakistan. Every house and restaurant has its own unique version of Chicken Karahi. 
Prepared with half kg chicken pieces, spices, ginger, garlic, and tomatoes, this Special Chicken Karahi Recipe does not include onions. Chicken is cooked with all these spices and ingredients to get the perfect taste and aroma. 
There is not much curry in Special Chicken Karahi recipe and it is served with the dry masala. The strong taste of Desi aromatic Special Chicken Karahi is perfect for your taste buds.
Special Chicken Karahi is served at all leading Pakistani, Indian restaurants.
Mothers and wives can follow Special Chicken Karahi recipe at home and can serve it with Nan, Kulcha, or Roti.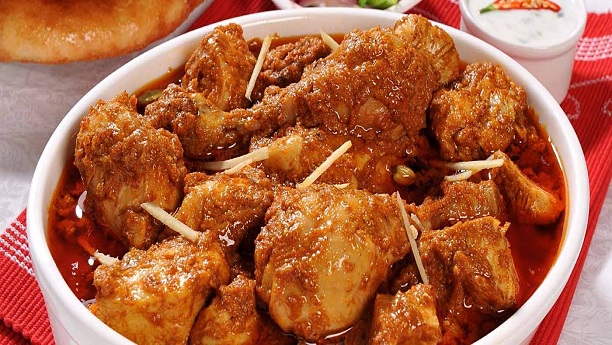 Ingredients
Chicken: 1/2 kg
Tomato: 1 to 2 piece
Oil: 1/4 cup
Red Chili: 2 tablespoons
Dried Fenugreek(Sukhi Methi): 1 tablespoon
Coriander Seeds Ground (Sabut Dhanya): 1 tablespoon
Garam Masala Ground (SpIce Mixture): 1 tablespoon
Yogurt: 2 tablespoons
Salt: As per your taste
Green Chili: 5 pieces large
Ginger Paste: 2 tablespoons
Chopped Ginger: 1 tablespoon
Butter: 2 tablespoons
METHOD:
1. Heat the oil in a pot, add chicken and cook it slightly.
2. Put the ginger paste.
3. Mix it with the chicken, add chopped tomato and mix.
4. Now add all spices and keep mixing until tomatoes leave their water.
5. Now add yogurt and green chili.
6. Add butter when water is dried; lower the stove flame.
7. Garnish with green chili and ginger.
8. Your chicken karahi is ready to eat.
9. Serve and enjoy with your friends and family.
If you liked chicken karahi recipe, give your reviews, and don't forget it to share with friends.